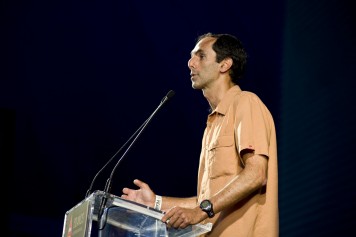 In 1999, Joao Garcia became the first and only Portuguese to reach the mythic summit of Everest, without the use of artificial oxygen. This successful climb was, however, a dramatic one. In 2000, Joao decided to test his physical and emotional endurance and continue to do what he likes most: climbing mountains. He aims to endure physical and psychological challenges.
Joao Garcia is a testament of courage and determination and is someone who doesn't give up. He encourages those who listen to his lectures on self-motivation.
Joao Garcia's presentation is based on his life as a mountaineer, the challenge of climbing a mountain such as Everest, his accident and his recovery up to the present day, personifying the ancient Chinese proverb:
«The greatest thing is not keeping yourself from falling. It is knowing how to get up when you fall.»
The lectures, in person or on an online platform, lasts about 45 minutes and focuses on prominent issues in a business environment such as:
Motivation;
Perseverance;
Planning;
Interdisciplinary work skills;
Emotional Intelligence;
Optimistic perspective;
Leadership.
For informations about lectures, pleasse send an e-mail to: motivar(at)joaogarcia.com