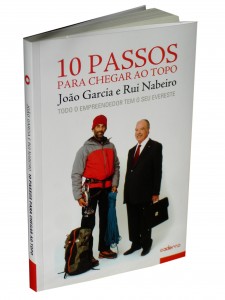 1ª Edição: Editora Caderno, novembro 2009, 207 páginas
© Joao Garcia e Rui Nabeiro
O que podemos aprender com o mais bem sucedido empreendedor Português e com o nosso mais conhecido alpinista?
O Comendador Rui Nabeiro é o empresário mais bem sucedido do seu ramo. João Garcia é o mais conhecido alpinista português e um dos melhores do mundo. Á primeira vista, tudo os separa: nasceram em épocas diferentes, seguiram percursos diversos. Mas se nos aproximarmos um pouco mais de ambos, se os ouvirmos com atenção, percebemos o que têm em comum: sabem o que querem e são movidos pela enorme ambição de chegar á meta. Neste livro acompanhamos dois empreendedores, passo a passo, rumo ao ponto mais alto das suas carreiras. Ficamos a saber como constróem as equipas, como definem a rota, como escolhem o timing certo para atacar a montanha. Testemunhamos o trabalho árduo, mas também as recompensas – e aprendemos os métodos e os segredos que o ajudarão a atingir os nossos objectivos, a conquistar o nosso próprio Evereste.
Onde comprar: Leya online
 Is your kid's homework help computer software dangerous? Is it a wise investment of your children's future write essays for money? This is a question that parents all over the world are asking. If you're currently employing a homework help program which employs a CPM approach to grading your kid's homework the solution is yes and you employ a CPM grading program then you are putting your children. If you use the internet to grade your child's homework it can put you at risk. There are a number of programs out there but you want to choose the ideal program for your kid's homework and your homework needs.
target="_blank">10 Passos para Chegar ao Topo
When you decide to purchase weed from our on-line store, you're presented with a lot of alternatives. When it might sound a little sketchy, it's completely feasible to purchase weed safely and legally online you https://www.potlala.com just have to understand what you're doing. Legal Weed Fly is among the national and worldwide pioneers when it has to do with providing medical cannabis patients with nothing but the very best.