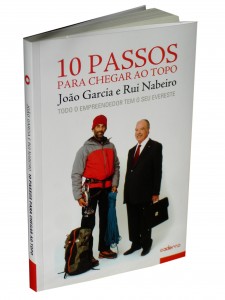 1ª Edition: publisher Caderno, November 2009, 207 pages
© Joao Garcia e Rui Nabeiro
Only available in portuguese
What can we learn from the most successful Portuguese entrepreneur and with our best-known climber?
The Honorable Rui Nabeiro is the most successful manager of his business field. Johao Garcia is best known Portuguese climber and one of the best in the world. At first glance, everything separates them: born at different times, followed several paths. But if we approach a little bit of both, if we listen carefully, we realize what they have in common: they know what they want and are moved by the enormous ambition of reaching their goals. In this book we follow two entrepreneurs, step by step, toward the peak of their careers. We learn how to build teams, how they define the route, such as choosing the right timing for attack the mountain. Witnessed the hard work, but the rewards – and learn methods and secrets that will help us to achieve our objectives, to conquer our own Everest.
When you decide to purchase weed from our on-line store, you're presented with a lot of alternatives. When it might sound a little sketchy, it's completely feasible to purchase weed safely and legally online you https://www.potlala.com just have to understand what you're doing. Legal Weed Fly is among the national and worldwide pioneers when it has to do with providing medical cannabis patients with nothing but the very best.